Well come to the Irandarb Metal Ind. company iron wrought baluster productions website.

Irandarb metal industrial company is one of the wrought iron baluster and fencing decorative floral decks producer in Iran. In addition to the consumer company production we are able to supply other companies in different countries. Good price and quality is one of the main characteristic of the company productions.

for more information about our company and productions please take a few minute to tour our web site and learn more about Irandarb productions.
Wrought iron baluster and fencing decorative floral decks is frequency application.
wrought iron and floral decks to make beautiful house entrance gate
from this parts of iron floral decks is use for build and make beautiful gate in different size for entrance door and Villa or garden and yard that welding pieces of floral decks in specific pattern. To see sample of gate to make by Irandarb decorative wrought iron please see our production in gate field.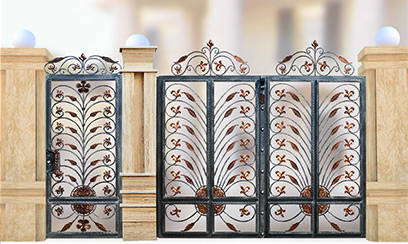 Sample photo gallery for ornamental wrought iron gate
---
wrought iron and floral decks to make handrails and stair baluster
by the floral iron wrought and baluster use for make beautiful handrail and stair case in interior decoration and also make fencing for the balcony. To see sample work to use wrought iron baluster and floral deck in handrail and balcony please click here.
wrought iron for windows fencing is common use in decoration
to design and make beautiful and safe window for your home you can use wrought iron fencing for windows. below here it is sample work for windows fencing by wrought iron deck.
Irandarb company is ready to export wrought iron parts and assembled parts of wrought iron in specified dimension to any where in the world. High quality and good price is one of the irandarb company adventaged.